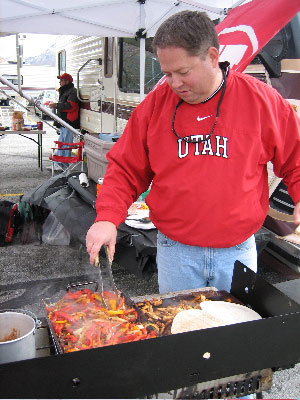 I took my boy to the Wyoming game about 1.5 hours early to meet up with several friends in the tailgate parking lot. I took a TON of pictures of the Ute tailgaters so hit the photo gallery for those pix and pix from the game obviously.
I visited my pal webmonkey from utefans.net and his pirate ship. I also dropped in on my pop and his pals on the East end of the lot. My pop had a gift for my by (9 years old): An autographed Utah baseball cap by Kyle Whittingham himself!
I'm considering getting my own tailgate pass next year. It is just plain fun.
The Game
The first quarter was a bit of a concern as we ended up in 3rd and long seemingly all the time. All we could come up with were field goals. We eventually broke the game open and started scoring touchdowns.
Even though our backup backs (Ganther was out) had a tough time running, we racked up over 500 yards of offense and 43 points. Johnson was awesome and personally accounted for over 450 yards of offense between his passing and running. Oh, and he had 4 TD passes!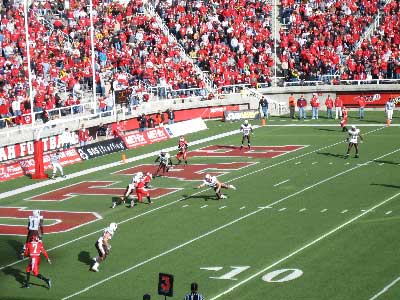 Touchdown Utah!
Defensively we moved Weddle to corner to cover Wyo's great receiver. Total shut down. That receiver only had a little more than 40 yards and no TD's. Wyo only manages 13 points.
Finally some obvious improvement
Finally as a team we showed obvious improvement on offense and defense. I've been waiting for this improvement since the 2nd or 3rd game of the season. The TCU game apparently really took it's toll on us mentally and that may have something to do with it.
But now the team looks confident and is definitely moving the right direction.
The one weakness I still have an issue with, and have even since last year, is our kickoff game. We don't get many touch backs at all, and our kick coverage is giving up way to many yards on returns.
Overall a great day and a great game. The weather even cooperated.
GO UTES!