It's 1:28am, the night before the big Utah/byu football game. This is a quick post about tonight's basketball game though.
I was quite impressed wit the team tonight. Usually this early in the season the team looks very rusty. These guys looked firey, prepared and energetic. The new point guard #1 (don't know his name yet) looked awesome. He must have had over 20 points.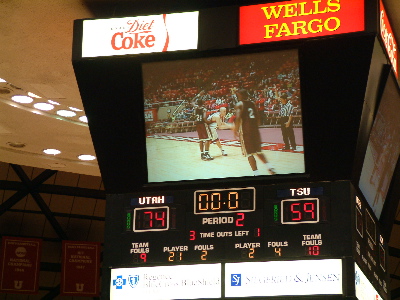 The new style looks ok so far. And we have a new 7 foot center that is a Michael Doleac clone. I hope he's close to as good as Doleac and we'll be in good shape.
The Utes win and also tonight byu lost! What a perfect evening.
I also got a chance to see the new banners hanging up in the rafters at the Huntsman Center. Finally we have something to show for the many great years of basketball this team has had. One question though: Where are the jerseys of Keith Van Horn and Andre Miller? Did they forget to put them back up?